1/9
Vancouver & the Canadian Rockies Train Vacation | Harbour Air Vancouver
2/9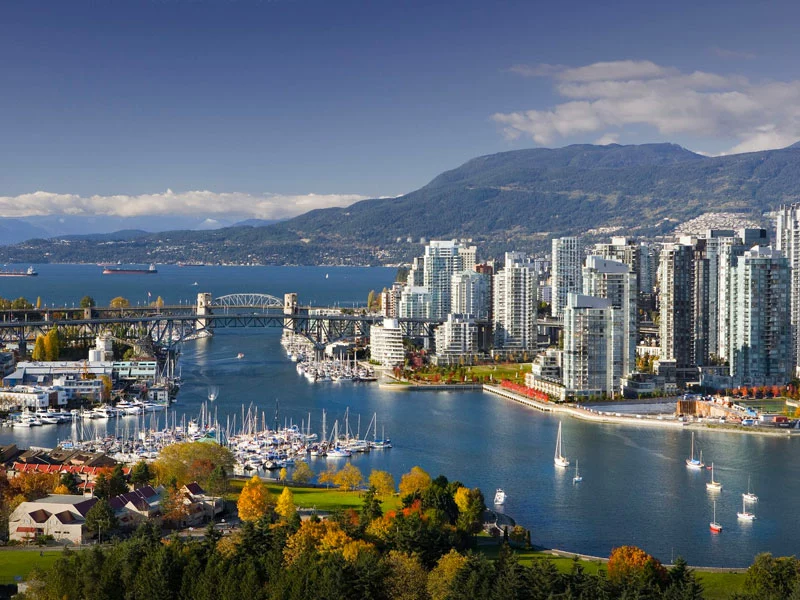 Vancouver & the Canadian Rockies Train Vacation | Vancouver False Creek
3/9
Vancouver & the Canadian Rockies Train Vacation | VIA Rail
4/9
Vancouver & the Canadian Rockies Train Vacation | VIA Rail
5/9
Vancouver & the Canadian Rockies Train Vacation | Fairmont Jasper Park Lodge
6/9
Vancouver & the Canadian Rockies Train Vacation | Glacier Skywalk
7/9
Vancouver & the Canadian Rockies Train Vacation | Peyto Lake Banff NationalPark
8/9
Vancouver & the Canadian Rockies Train Vacation | Bow River Banff National Park
9/9
Vancouver & the Canadian Rockies Train Vacation | Banff
Vancouver & the Canadian Rockies Train Vacation
8 Days / 7 Nights
Vancouver to Calgary or Calgary to Vancouver
INTRODUCTION
Experience Western Canada & Vancouver on this popular Canadian Rockies train vacation.
Start with your choice between a day excursion to Victoria or Whistler, then board VIA Rail's renowned Canadian train and travel overnight in a sleeper cabin to Jasper.
Here you'll enjoy an Ice Explorer ride onto the Athabasca Glacier, then travel to Lake Louise by coach before continuing to Banff.
Choose between wildlife watching, viewing grizzly bears or taking part in a cowboy cookout, then wrap up the trip in Calgary.
Day 2
Vancouver | Freedom of Choice - Choose 1 of 2 Excursions
Option 1. Victoria & Butchart Gardens | Coach | ferry | floatplane
Option 2. Whistler with Sea to Sky Gondola | Coach | floatplane
Day 3
Vancouver to Jasper | VIA Rail
Day 4
Arrive Jasper | VIA Rail
Day 5
Jasper to Lake Louise | Sightseeing with picnic lunch
Ice Explorer Ride onto the Athabasca Glacier + Glacier Skywalk
Day 6
Lake Louise to Banff | Coach
Day 7
Banff | Freedom of Choice - Choose 1 of 3 Excursions
Option 1. Discover Banff & Its Wildlife Tour + Banff Gondola
Option 2. Discover the Grizzly Bears Lake & Waterfalls
Option 3. Cowboy Horseback Cookout BBQ Lunch or Dinner
Day 8
Banff to Calgary | Coach
MAP
View map
DETAILED ITINERARY
Read more
INCLUDED
Read more
WANT TO KNOW MORE?
Arrange a call with a Canada Train Travel Designer and bring your vacation one step closer!
Schedule a Call
DATES & PRICING
Read more
REVIEWS
Thanks for a great holiday. The Rockies - awesome, Victoria- beautiful. Whistler- magic. All the itinerary was excellent. Well done team!!
Mark Sydney, Australia
Paulina organized an awesome trip for us which included Vancouver Island and the Rockies. The tours with Discover Banff were great.
Peter Australia
Our trip through Western Canada was as breathtakingly beautiful as we had hoped and the whole experience progressed flawlessly. Our agent was Jasmine Wong and she understood what we wanted and had the expertise to arrange the whole two weeks to perfection. Our trip included a Via train trip, various sightseeing coaches, a flight to Whitehorse and then another to Vancouver, narrow-gauge railway trip to Skagway (utterly fantastic) and a rental car for our time in Whistler, and of course great accommodations throughout as well as side excursions. Our detailed itinerary included all the vouchers and tips and hints for our added enjoyment. We highly recommend their service.
Evelyn D Miami, FL
Vancouver & the Canadian Rockies Train Vacation
Start planning your tailor-made train vacation in Canada by contacting our train specialists
Call 1 800 986 4560US
Monday - Friday: 8am - 5pm PST
, Saturday: 8am - 4:30pm PST
, Sunday: 11am - 5pm PST
Send an email sales@canadatraintrips.com