1/7
Rail & Drive through the Canadian Rockies | Driving the Icefield Parkway
2/7
Rail & Drive through the Canadian Rockies | VIA Rail Mt Robson
3/7
Rail & Drive through the Canadian Rockies | Big Horn Sheep the Icefield parkway
4/7
Rail & Drive through the Canadian Rockies | Banff
5/7
Rail & Drive through the Canadian Rockies | Lake Louise
6/7
Rail & Drive through the Canadian Rockies | Banff
7/7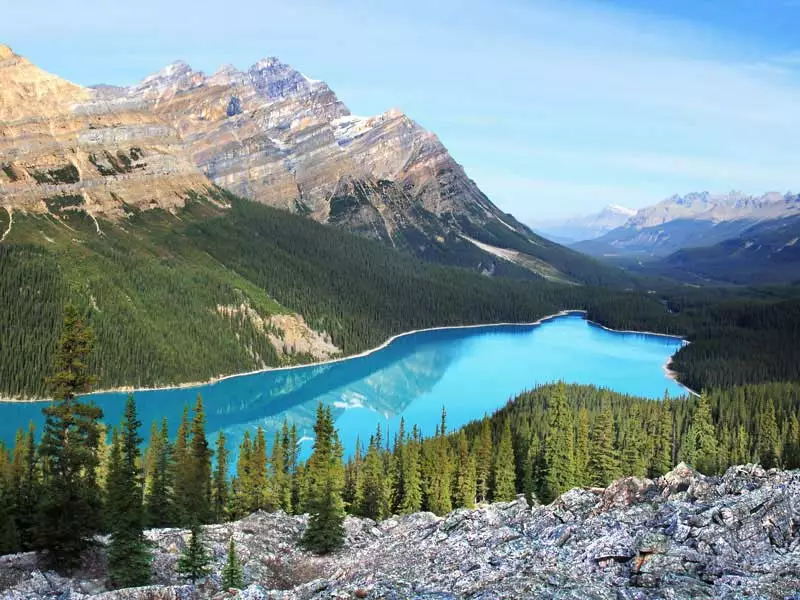 Rail & Drive through the Canadian Rockies | Peyto Lake Icefield Parkway
Rail & Drive through the Canadian Rockies | VIA Rail | Self-drive
7 Days / 6 Nights
Vancouver to Calgary or Calgary to Vancouver
INTRODUCTION
Treat your loved ones to a family train vacation in the Canadian Rockies! Share the magic of train travel with your children on this journey from Canada's West Coast to the Rocky Mountains.
Starting the adventure in Vancouver, you'll travel onboard VIA Rail's "Canadian" train to arrive in the natural splendor of Jasper and Banff National Parks.
Enjoy carefully selected outdoor adventures combined with plenty of time to relax and spend time together.
Day 1
Vancouver to Jasper | VIA Rail
Day 2
Arrive Jasper | VIA Rail
Day 3
Jasper | Freedom of Choice - Choose 1 of 3 Excursions
Option 1. Maligne Lake Cruise
Option 2. Jasper River Float
Option 3. Jasper Nature Walk
Day 4
Jasper to Lake Louise | Ice Explorer + Skywalk
Ice Explorer Ride onto the Athabasca Glacier + Glacier Skywalk
Day 5
Lake Louise to Banff
Day 6
Banff | Freedom of Choice - Choose 1 of 4 Excursions
Option 2. Lake Minnewanka Cruise
Option 3. River Explorer Canoe Tour
Option 4. Bow River Horseback Adventure
MAP
View map
DETAILED ITINERARY
Read more
INCLUDED
Read more
WANT TO KNOW MORE?
Arrange a call with a Canada Train Travel Designer and bring your vacation one step closer!
Schedule a Call
DATES & PRICING
Read more
REVIEWS
My planner this year was Paulina. I was very happy with her from start to finish. I did the same type of trip last year to Vancouver Sunshine Coast and Island and was very happy with the travel designer I had then too. Same with another trip earlier was to the Atlantic provinces.Being a repeat customer attests to the quality.On every trip we were very pleased with the outcome and the one or two tiny glitches that occurred were handled promptly and to a satisfactory conclusion.Being older our self drive touring days are probably over but I would definitely recommend this to anyone - but especially to young parents with families. It is a wonderful way to see the country and the team at Canada by Design seem very very competent in planning it out for maximum benefit. Thank you Paulina - I appreciate the extra care you took.
Annabelle Delaware, United States
Rail & Drive through the Canadian Rockies | VIA Rail | Self-drive
Start planning your tailor-made train vacation in Canada by contacting our train specialists
Call 1 800 986 4560US
Monday - Friday: 8am - 5pm PST
, Saturday: 8am - 4:30pm PST
, Sunday: 11am - 5pm PST
Send an email sales@canadatraintrips.com