Born in New Zealand, Sue's passion for travel was initially sparked by the South Pacific and Australia.
As her career in travel grew, she added Canada and Alaska to her repertoire and explored South East Asia, South America, Europe and North Africa, often times with her family.
While Sue has an authentic love and appreciation for destinations all over the world, it is Canada and Alaska that will always be her first love.
What is your favourite Canadian Rail Tour?
My favorite Canadian rail tour is the Rocky Mountaineer's "First Passage to the West" from Banff to Vancouver. Leaving Banff, you'll travel through the Spiral Tunnels and Craigellachie (where the last spike of the Canadian Pacific Railway was driven). On the second day you'll continue to Vancouver, traveling via the Thompson River, Hell's Gate into the Fraser Canyon. The GoldLeaf dome service really has that 'wow' factor, with upstairs featuring panoramic views and downstairs offering gourmet meals prepared by Executive Chefs.
What is your best travel memory in Canada?
Bear viewing at Sonora Resort. We took a half day guided Grizzly Bear excursion. and the resort staff ensured that we had all the appropriate gear to take a short boat ride to Bute Inlet. When we arrived, we were met by an experienced Homalco First Nations guide and transferred by a mini bus through the rain forest to various viewing points along the riverbank. In all we saw 16 bears, some at a distance and some just across the river bank. Wow! It was an amazing experience and something I will never forget.
What one thing in Canada should you experience at least once in your life?
Eating Canadian lobster. My first time eating lobster was in Halifax, and I honestly wasn't sure how to eat it. A few days later I was better prepared, and I had a delicious Canadian lobster lunch at Halls Harbour, Bay of Fundy, Nova Scotia (Known for having some of the highest tides in the world).
My favorite places
The most spectacular way to reach Banff National Park is to take a Banff train ... Read more
My top picks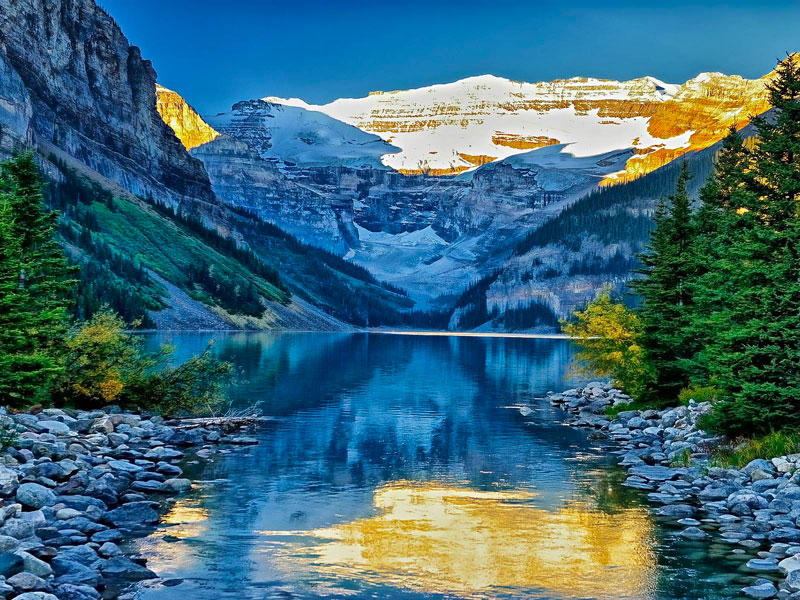 Our other travel specialists